I moved into a Jewish apartment – Part II
I noticed a newspaper from August 25, 1944, in the Muzeon archive. One of the items they published was about Hungarian Jewish people who abandoned their apartments as a result of the deportations to Auschwitz. The editor of this magazine made the decision to publish a number of letters from Hungarians who described their experiences while living in the apartments they had to relocate into as a result of the bombing that destroyed their homes. The variety of reader experiences and responses is what piqued our interest in translating this post.
This article is the second part of a series of stories that present some letters from an antisemitic newspaper about the attitude of people who moved into abandoned Jewish apartments. The first part was published on our website. It corresponds to the first letter in the newspaper article. To read Part I go to the following link: https://muzeon.ro/en/i-moved-into-a-jewish-apartment/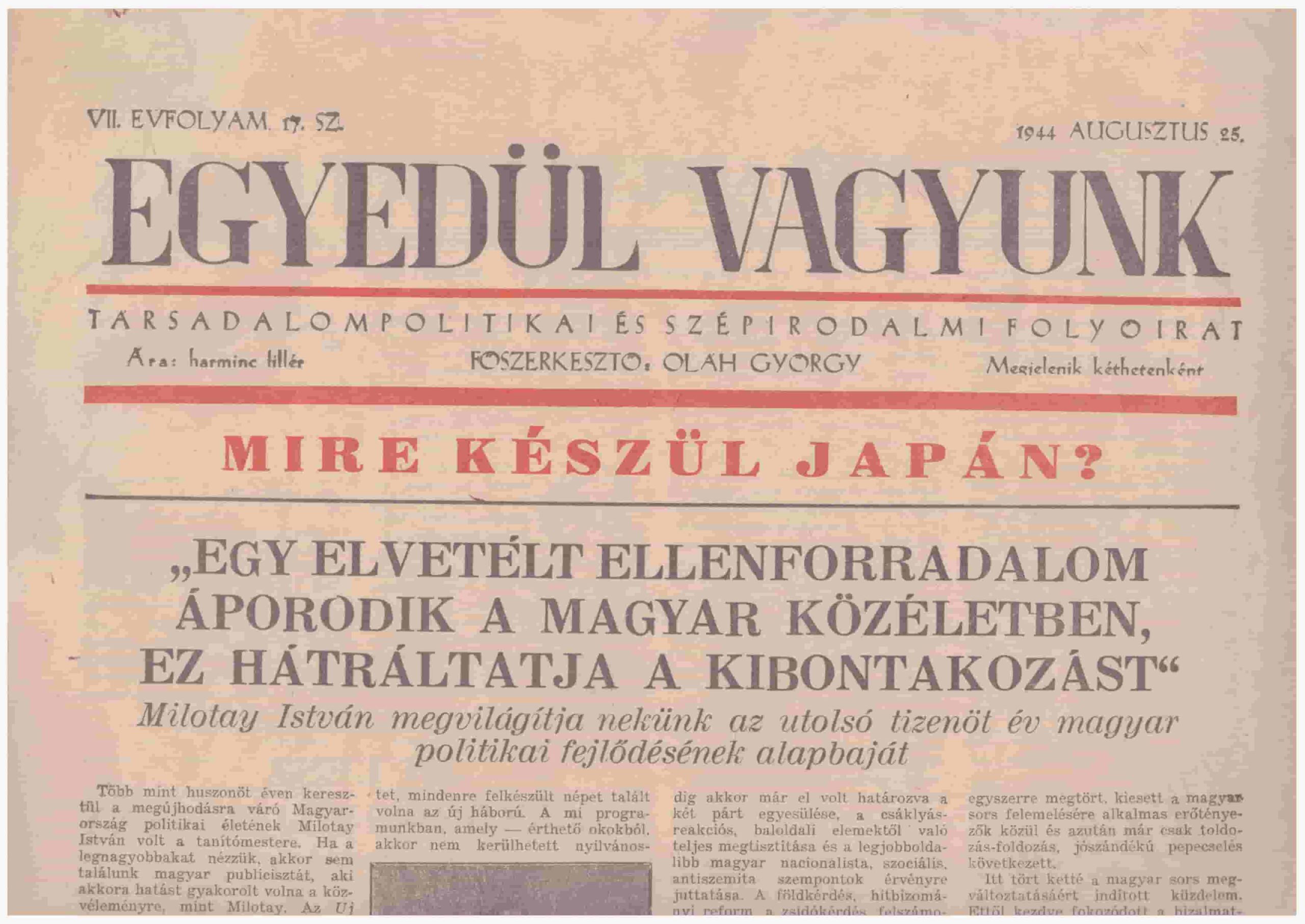 'We are alone', VII, No. 17, August 25, 1944.
We Are Alone was a newspaper on the subject of war and antisemitism, a socio-political and literary magazine published between October 1938 and October 1944. The paper's politics was right-winged. The place of publication was Budapest. It was published by Stádium.
It was edited by György Oláh, Kálmán Pongrácz and József Kárász. In its camp of popular writers are several (József Darvas, Gyula Illyés, László Németh, Pál Szabó, Péter Veres), Transylvanian (Jenő Dsida – posthumously -, Albert Wass), Hungarian writers from Slovakia (László Dobossy, Pál Szvatkó) and other groups of writers (Endre Illés, Zoltán Csuka, Andor Németh, Lőrinc Szabó, Gyula Takáts, Sándor Tatay, Sándor Weöres).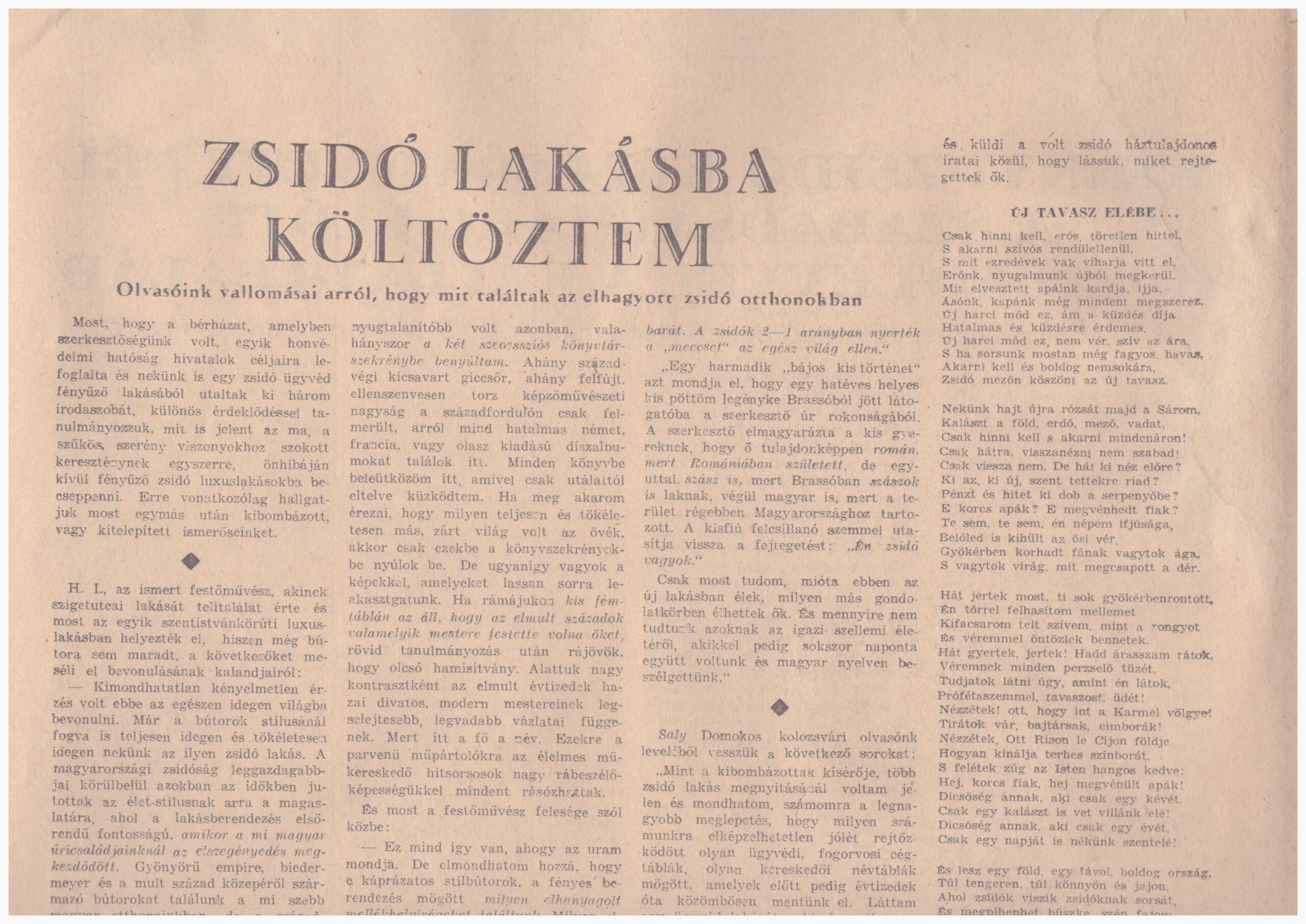 I moved into a Jewish apartment, 'We are alone', VII, No. 17, August 25, 1944, p. 8.
Readers' testimonies about what they found in abandoned Jewish homes
The second part of this article corresponds to the second letter sent to the editor of the antisemitic newspaper by a reader. He tells how, after emptying a Jewish apartment, he had come across a booklet published by a Jewish youth magazine and it had become his favourite evening reading. The reader presents three stories chosen from the booklet, at the end explaining how little he knew and understood about the lives of the Jews with whom he lived daily and shared the same language.
In this same article we present another letter sent by a reader from Cluj who was dissatisfied with what he saw in the abandoned Jewish apartments. Being published in an antisemitic newspaper in 1944, one can feel the hatred in the reader's writing towards the wealth he encountered in many Jewish apartments and how he had not seen such a thing exist among Hungarian officials "of his kind".
As I mentioned in the beginning, this is an antisemitic newspaper and what we want to do by publishing the article is only to present the documents of the time and its perceptions.
Here is the first letter in Part II of this article:
Our reader László Pándi reports:
"When I was clearing out a Jewish apartment that had changed the owner, I came across a booklet with the title "The Gift of Hope Book" on the cover. It was published by the Jewish youth magazine Hope as a gift for Purim. Since then, I have been reading it every evening.
Dated January 1932, inside I find the following:
"It is in vain that Adolf Hitler, the German antisemitic leader, wants to deprive German Jews of their civil rights and restore the mediaeval state of affairs. In London, Jewish front-line fighters attending a Chanukah party were greeted in a telegram by the King of England. Queen Wilma of the Netherlands postponed a radio speech scheduled for 6 p.m. on Friday evening until 10:30 p.m. for the sake of her Jewish subjects who were in the temple at that time."
Then:
"An American newspaper asked its readers to vote who are the three greatest geniuses in the world, on stage, in film and in music. The result was: Reinhardt and Lubitsch, who are Jews, Toscanini who is not Jewish, but he is a passionate Jew-lover. The Jews won the "match" 2 to 1 against the whole world."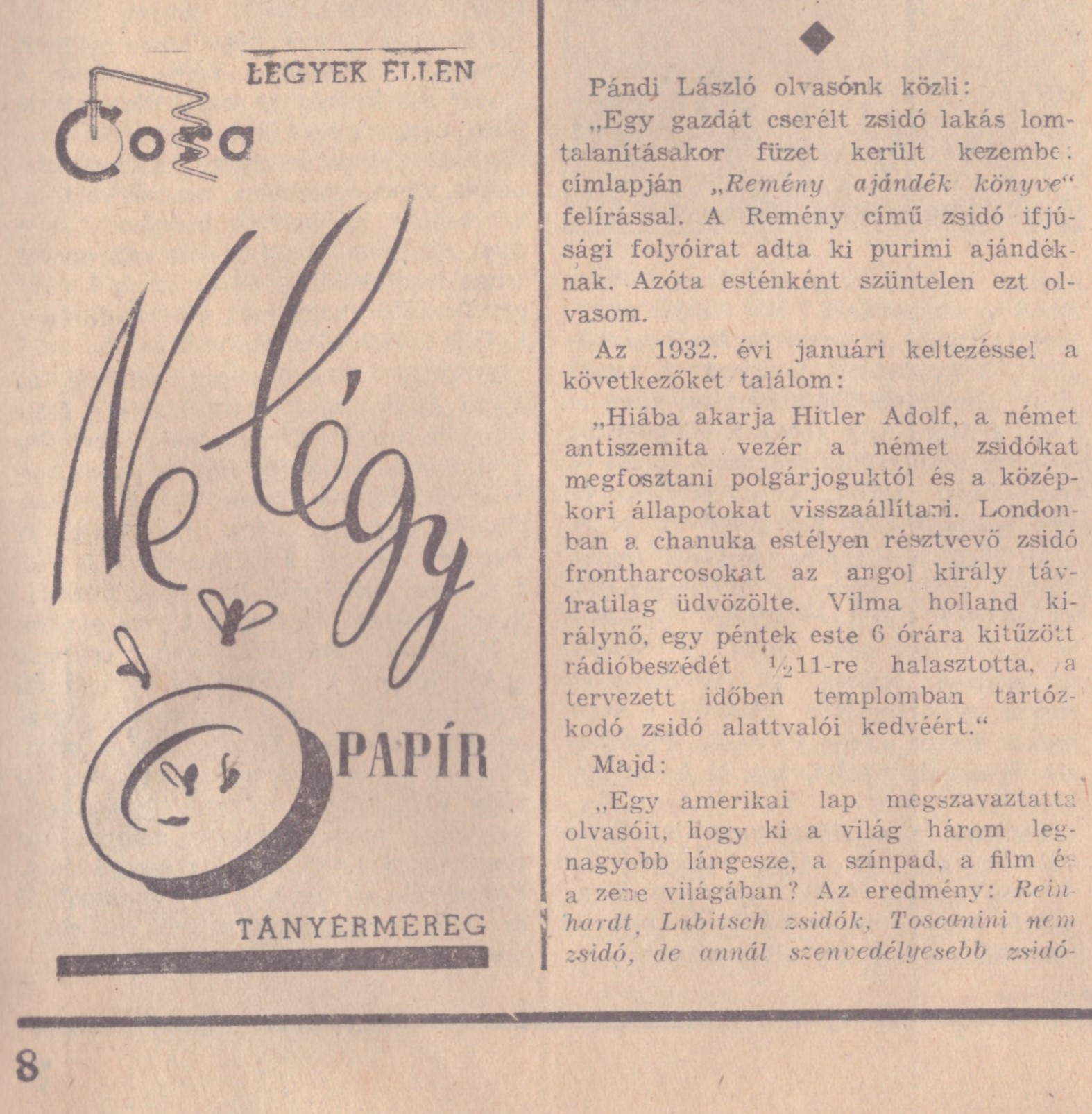 The first part of the second letter sent by a reader of the antisemitic newspaper 'We are alone'
'A third "charming little story" tells how a cute little six-year-old boy from Brașov came to visit the editor's relatives. The editor explained to the little boy that he was actually Romanian, because he was born in Romania, but also Saxon, because there are Saxons in Brașov, and Hungarian, because the area used to belong to Hungary. The boy refused with a twinkle in his eye: "I am Jewish."
Only now, since I have been living in this new apartment, do I find out what a different mindset they must have had. And how little we knew about the real spiritual life of those with whom we were often together daily and spoke the same language.'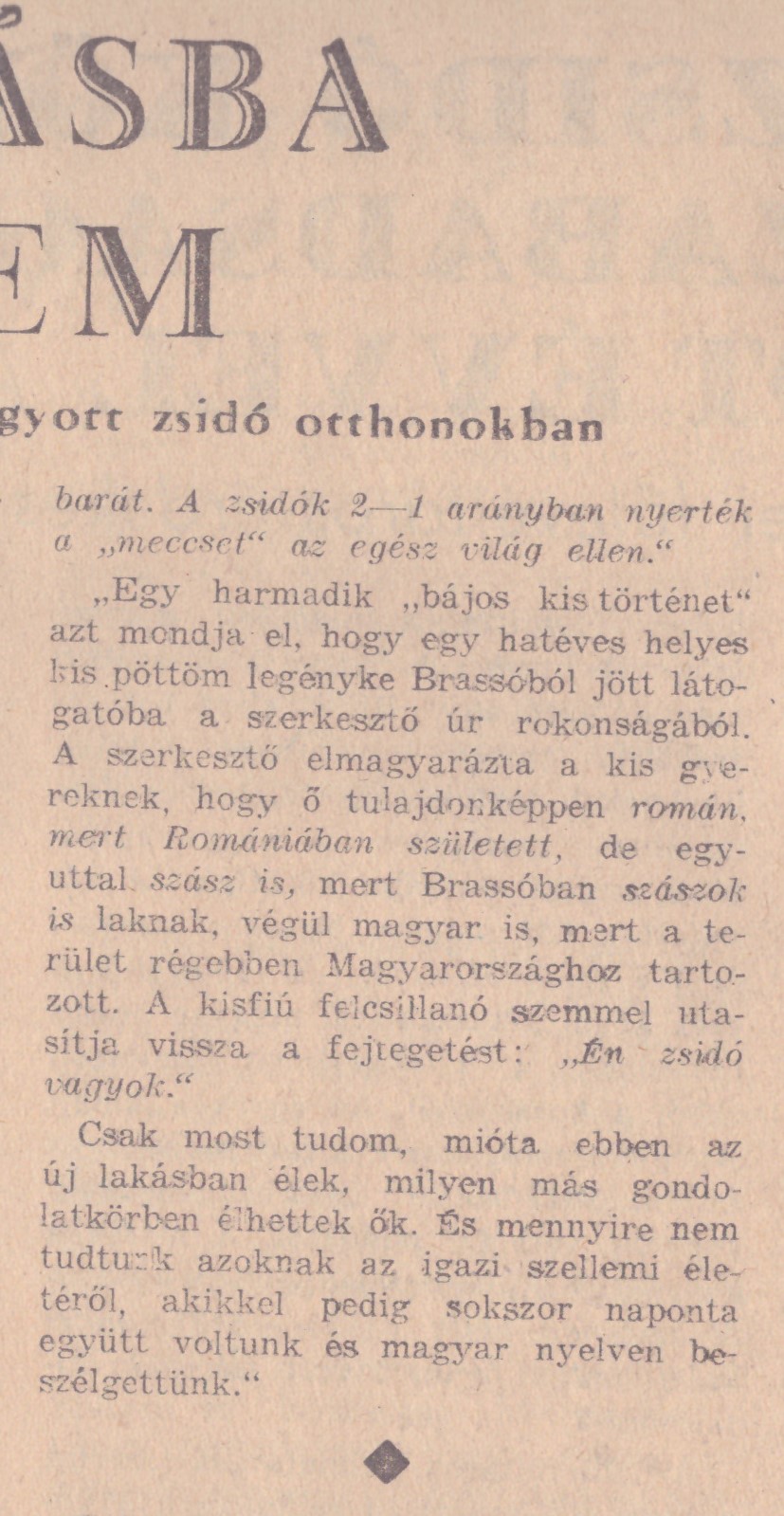 The second part of the letter sent by reader Pándi László to the newspaper 'We are alone'.
Next is the second letter we would like to present to you, sent by a reader of the antisemitic newspaper from Cluj.
We take the following lines from a letter by Domokos Saly, a reader from Cluj:
"While escorting the people that were bombed out of their homes, I was at the opening of several Jewish apartments and I can tell you that the biggest surprise for me was the unimaginable wealth that was hidden behind the signboards of lawyers and dentists, and behind the name plates of merchants, which we had passed by indifferently for decades. I saw the apartment of a lawyer who walked down the street looking so bad that you wanted to put a penny in his hand. In six rooms there were so many Persians, chandeliers, and such a dissipation of wealth in the apartment of this inappropriate-looking man, that I do not believe there was a single apartment like this in Cluj among Hungarian officials of our kind. Now, at last, this country can see for itself what they had accumulated since the beginning of the century. I don't fear that the little people of Cluj who now suddenly have found themselves in bright apartments will get dizzy by the light and prosperity that have been conjured up around them. These houses no longer create a sense of envy in the Christian man, but only counsel and warn us against what a nation could become if it foolishly and helplessly gives away its wealth to others."
Letter from Domokos Saly, a reader from Cluj, sent to the antisemitic newspaper 'We are alone', VII, No. 17.
However, it is important to understand that their purpose was to reinforce stereotypes about the supposedly very good material status of Jews, when in reality most Jewish families were not wealthy. Our purpose in publishing this article is to present the documents of the time and the perception of Hungarians towards the Jews who had been deported to Auschwitz.
Egyedül Vagyunk, VII Évfolyam, 17. Szám, 1944 Augusztus 25, 8. oldal.
https://hu.wikipedia.org/wiki/Egyed%C3%BCl_Vagyunk
https://www.wikiwand.com/hu/Egyed%C3%BCl_Vagyunk
Új magyar irodalmi lexikon I. (A–Gy). Főszerk. Péter László. Budapest: Akadémiai. 1994. 487. o.