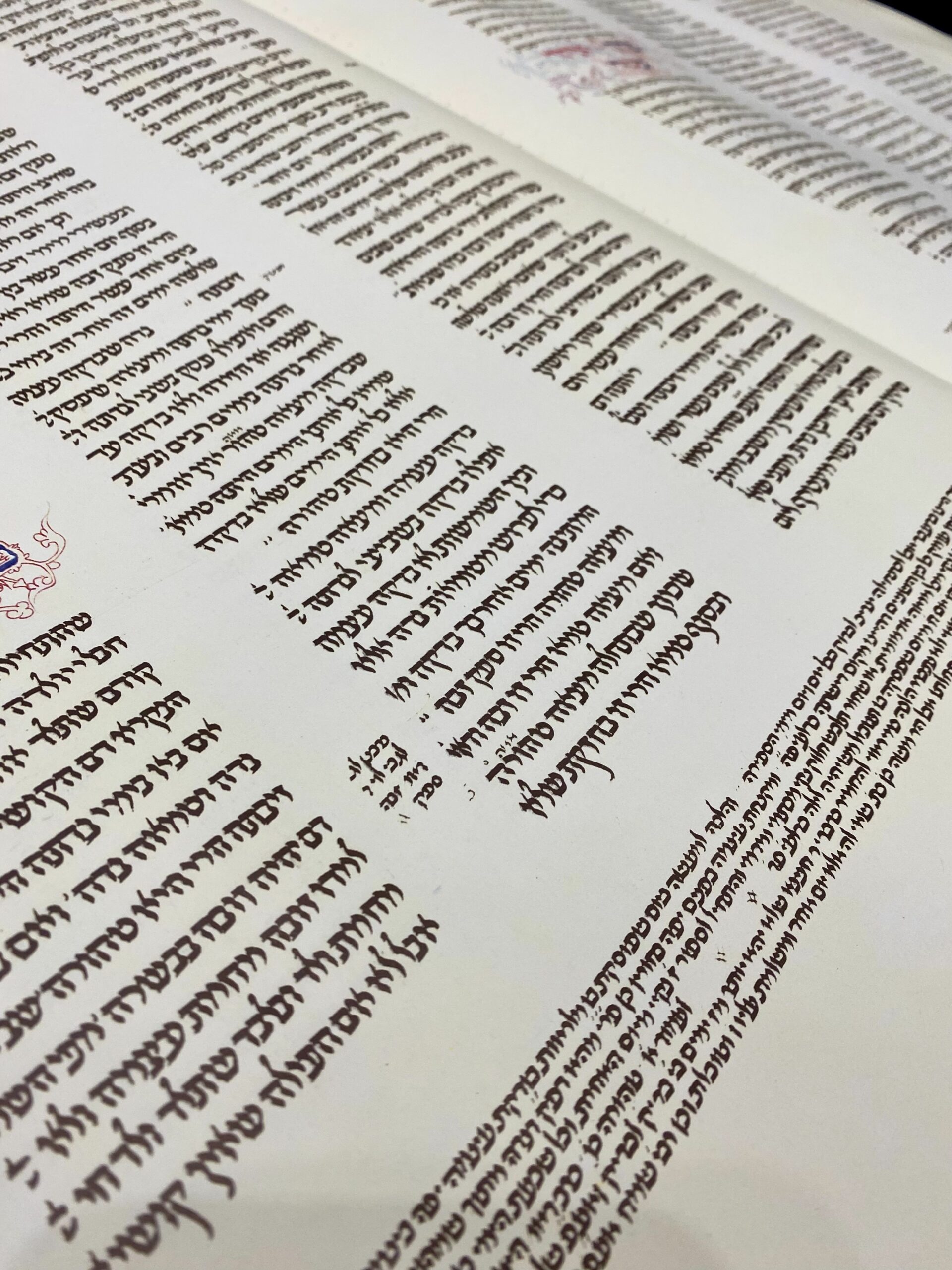 Codex Maimonides and Moses ben Maimon, the Jewish philosopher
If you've crossed our doorstep and taken a tour of the museum, you probably remember, when you arrived in our last room, a small sofa, a notebook in which you wrote down your thoughts and a beautiful bilingual Codex awaited you. You may have wondered what exactly this Codex Maimonides is, named after its writer, Moses ben Maimon. In the lines below we present some information about it.
Moses ben Maimon, born 30 March 1135, Córdoba, Spain, died 13 December 1204, Egypt, known as Maimonides (from the Renaissance period onwards) and also known by the acronym Rambam (in Hebrew literature and Western culture), was a Sephardic Jewish philosopher who became one of the most prolific and influential Torah scholars of the Middle Ages. He is perhaps the most famous and brilliant figure of mediaeval Judaism. Moses Maimonides, the great 12th century philosopher and legalist, lived at the height of Jewish culture in the Islamic world. The most amazing thing about Maimonides is that despite earning his living as a doctor and having an active medical career, he was also a prolific writer.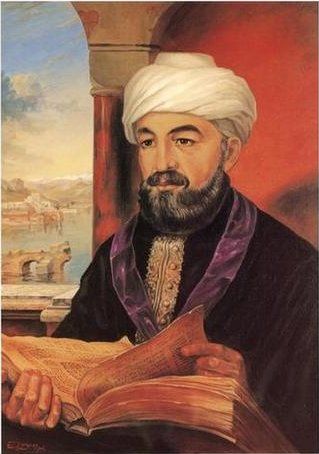 Portrait of Moses ben Maimonides (1135-1204). Image source: https://dailyminyan.com.
Maimonides was born into a distinguished family in Cordoba (Córdoba), Spain. The young Moses studied with his erudite father, Maimon, and other teachers and, from an early age, amazed his teachers with his remarkable depth and versatility. The Maimon family eventually left the city around 1159 to settle in Fez, Morocco, after the Mediterranean Islamic world was shaken by a revolutionary and fanatical Islamic sect, the Almohads, who captured Cordoba in 1148, leaving the Jewish community faced with the choice of submitting to Islam or leaving the city.
Although it was also under Almohad rule, Fez was probably more promising than Cordoba, because there the Maimons were foreigners, and their disguise would be more likely to go unnoticed. Moses continued his studies in his favourite subjects, rabbinics and Greek philosophy, to which he added medicine. In 1165, Rabbi Judah ibn Shoshan, with whom Moses had studied, was arrested as a practising Jew and found guilty and then executed. This was a signal for the Maimon family to move again, this time to Palestine, which was in a depressed economic state and could not provide them with the basis of a livelihood.
After a few months, they moved again, heading for Egypt, settling in al-Fusṭāṭ near Cairo. There the Jews were free to practise their faith openly. Pressed by economic necessity, Moses took advantage of his medical studies and became a practising physician. His fame as a physician spread quickly and he soon became court physician to Sultan Saladin, the famous Muslim military leader. At the same time, he became a leading member of the Jewish community, teaching in public and helping his people in various personal and community matters.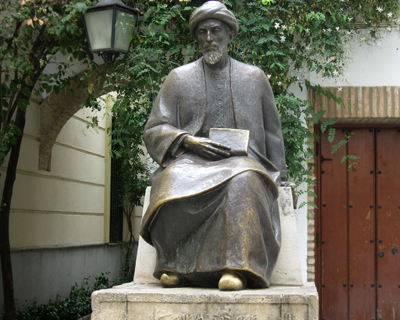 The statue of Maimonides in Córdoba, located in the Jewish quarter. Image source: https://travelforkids.mobi.
Maimonides' writings were numerous and varied. His earliest work, composed in Arabic at the age of 16, was "Maqālah fī ṣināʿat al-manṭiq" (Treatise on Logical Terminology), a study of the various technical terms that were used in logic and metaphysics. Another early work of his, also in Arabic, was "Essay on the Calendar" (Hebrew title: Maʾamar ha-ʿIbbur).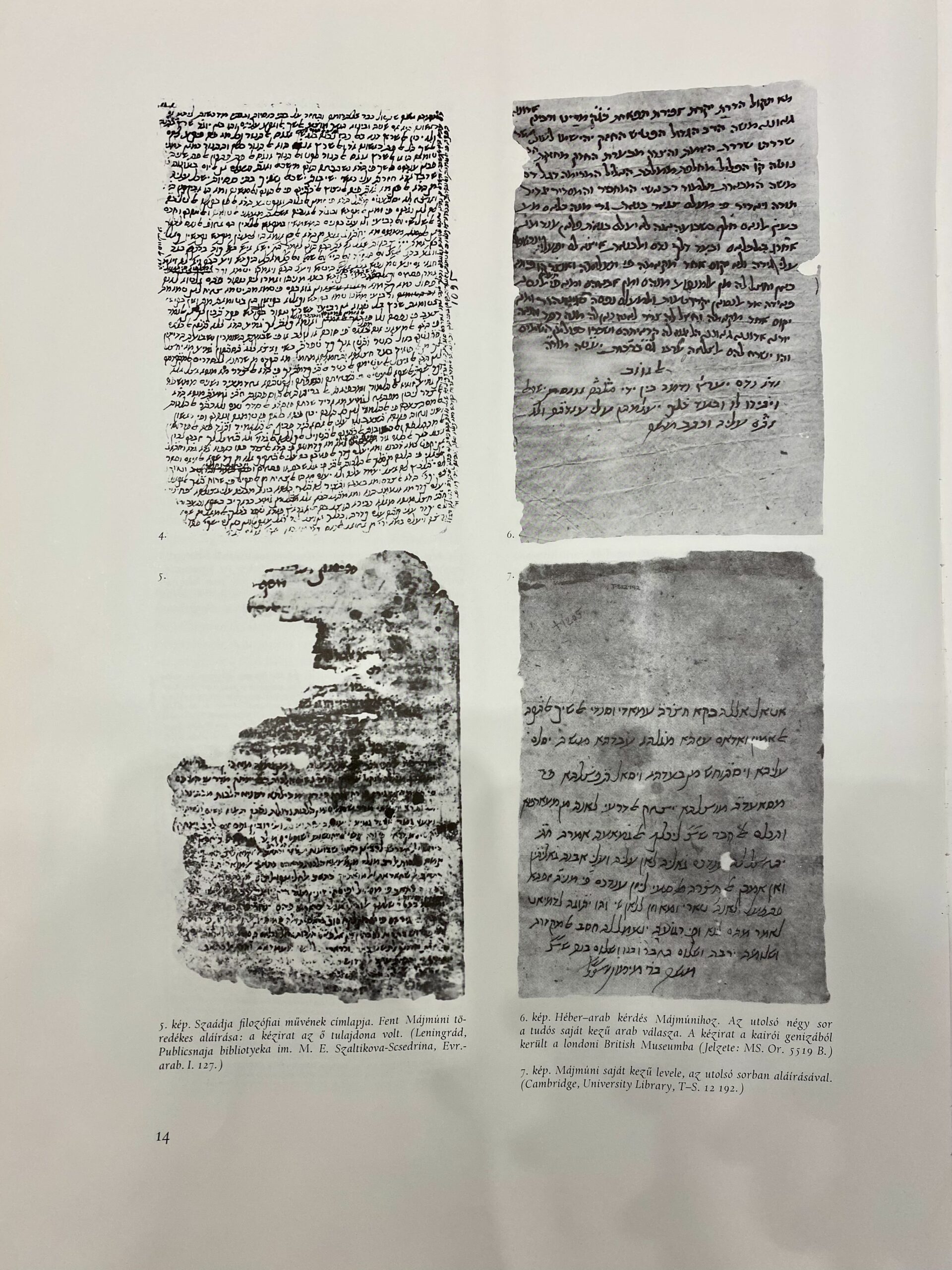 © Copyright Muzeon - Page from Codex Maimonides in the Muzeon Archive. Arabic and Hebrew manuscripts written by Moses ben Maimon. The codex was donated to the museum by Gabos Gyöngyi.
The Mishnah is a collection of rulings in Jewish law dating from ancient times to the 3rd century. Maimonides' commentaries clarify individual words and phrases, frequently citing relevant information from archaeology, theology or science. Perhaps the most remarkable feature of the work is a series of introductory essays dealing with general philosophical issues touched upon in the Mishnah. One of these essays summarises the teachings of Judaism in a creed of Thirteen Articles of Faith.
He completed his commentary on the Mishnah at the age of 33, after which he began his major work, The Code of Jewish Law, on which he worked for 10 years. Bearing the name Mishneh Torah (Revised Torah) and written in a lucid Hebrew style, the code provides a brilliant systematisation of all Jewish law and doctrine.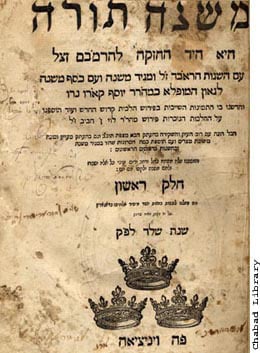 Inside cover of the Mishne Torah by Rambam from the 1574 edition printed in Venice, Italy. Image source: chabad.org.
He wrote two other smaller works of Jewish law: the "Kitāb al-Farāʾiḍ" (Hebrew title: Sefer ha-Mitzvot – Book of Precepts), a compendium of laws for less sophisticated readers, written in Arabic; and "Hilkhot ha-Yerushalmi" (Laws of Jerusalem), a compendium of the laws of the Palestinian Talmud, written in Hebrew.
His next major work, which he began in 1176 and worked on for 15 years, was his classic on religious philosophy, "Dalālat al-ḥāʾirīn" (Guide of the Perplexed), later known by its Hebrew title "Moreh nevukhim". A plea for what he called a more rational philosophy of Judaism, it was a major contribution to the accommodation of science, philosophy and religion.
Maimonides also wrote a number of minor works, occasional essays dealing with issues facing the Jewish community, and maintained an extensive correspondence with scholars, students, and community leaders. He also wrote a number of works dealing with medicine, including a popular collection of health rules, which he dedicated to the sultan, al-Afḍal.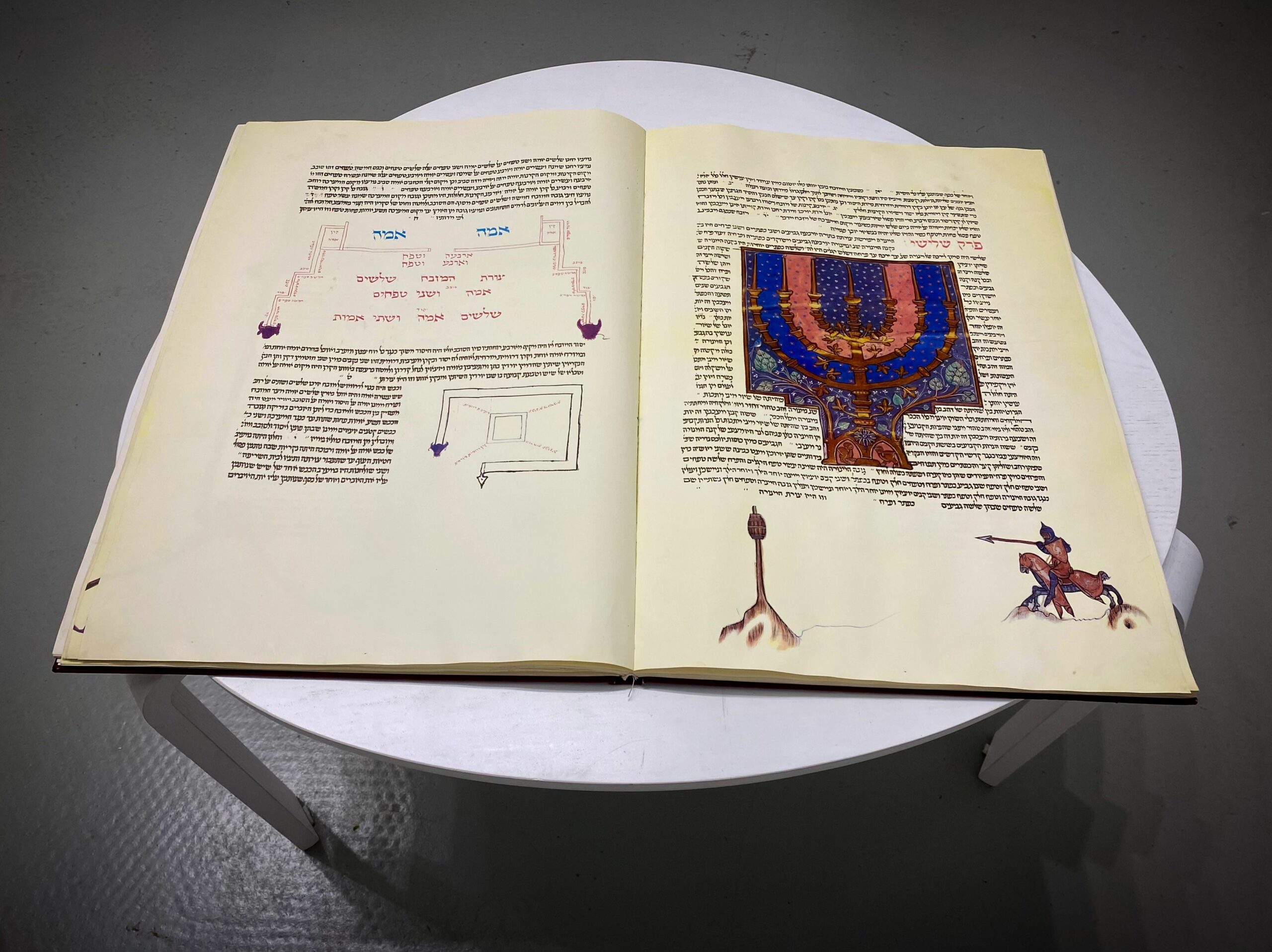 © Copyright Muzeon - Codex Maimonides from Muzeon Archive.
Before Maimonides, to know Jewish law, you had to learn the entire Talmud. And since the Talmud itself was sometimes indecisive, often incorporating conflicting opinions on Jewish law, it was necessary to then study the various commentaries, which clarified the final law.
Maimonides was the first to index the entire body of the Oral Law, namely the two Talmuds, the various halakhic Midrashim, later works written by the Geonites and even the Kabbalistic texts, compiling them all in a logical and systematic manner.
Maimonides codified the Sabbath laws, holidays, prayer, dietary laws, and laws governing Jewish daily life. He also wrote a section on healthy eating, physical fitness and mental health. He said that "health and wellness of the body are part of one's service to God."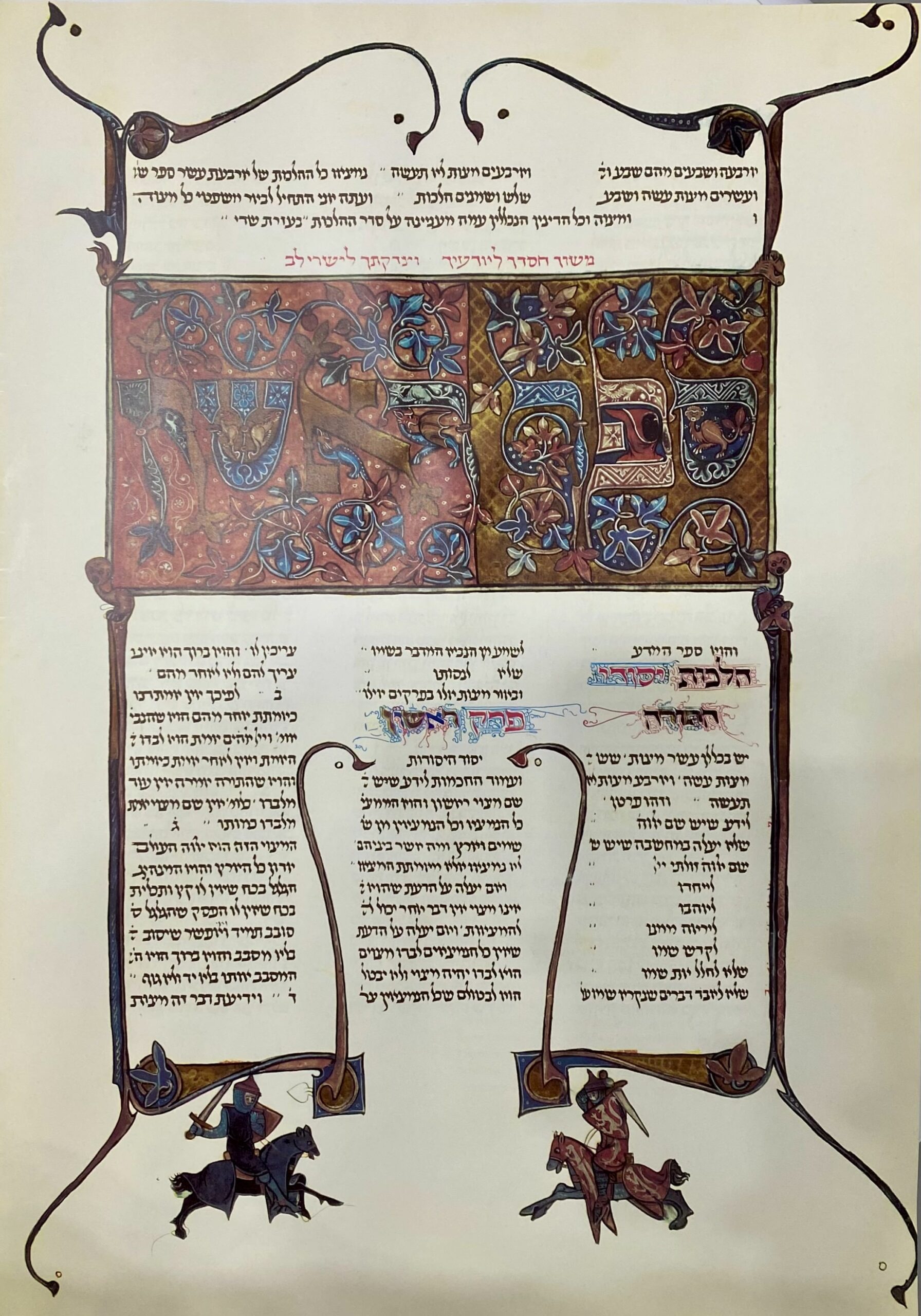 © Copyright Muzeon - Page from the Maimonides Codex in the Muzeon Archive.
At the age of 20, he wrote his commentary on the Mishnah, the legal code of Jewish law. Later, he wrote his own code of Jewish law, a Hebrew summary of all the Talmudic discussions, organised according to his own system, which he called the Mishneh Torah (Second Torah or Revised Torah). Not to be confused with either the Torah or the Mishnah, this is the Mishneh Torah, also known as Yad ha-Chazaka, or "the mighty hand".  He wrote fourteen books containing all the laws that Jews must know. The fourteen books were composed in beautiful Hebrew, the same Hebrew used in the Mishnah, and not the mixed Hebrew and Aramaic contained in the Talmud.
Jews regard this text as one of the fundamental texts of Jewish law, especially among Sephardic Jews. This work has been translated into Latin and eventually into many other languages. It became known to Thomas Aquinas, to the wider Christian world, to the Islamic world, and became a classic of mediaeval philosophy. In the traditional interpretation, there is the Bible, the Mishnah and the Talmud. Maimonides merged the Mishnah and the Talmud into the generic term "oral law". Then he added a third category. He calls it by the term "pardes", which is a word used in Jewish literature that means esoteric studies. His reason for compiling this codex was based on his philosophical study of rabbinic literature. In other words, not just to read it by heart, not just to learn it, not just to memorise it, not just to be able to just recite it, but to get to the essence of it – its philosophical essence, its intellectual structure; that's what rabbinic study is really about.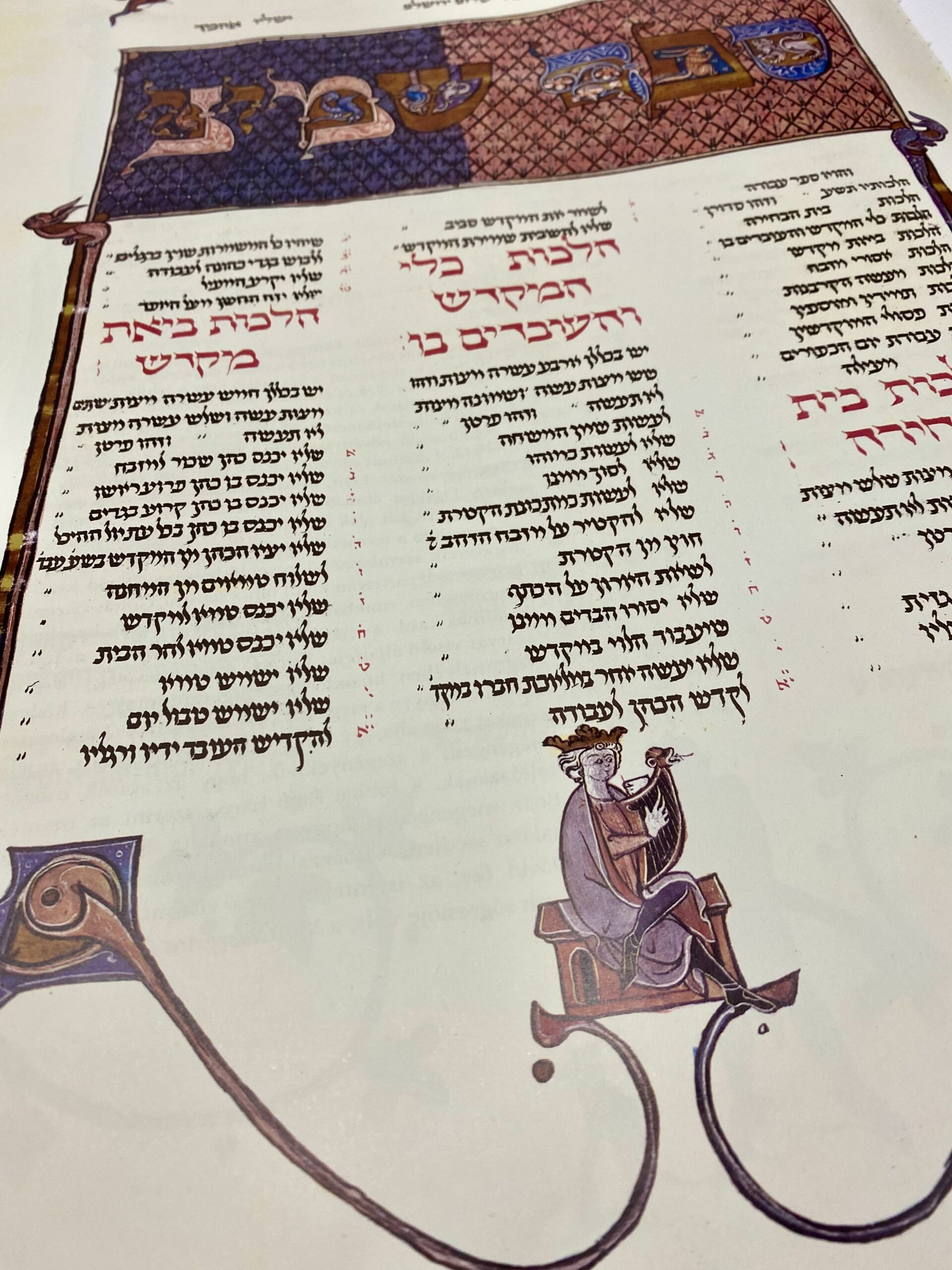 © Copyright Muzeon - Page from the Maimonides Codex in the Muzeon Archive.
Another unique component of the volumes is that they are not limited to the laws that pertain to the present day, which constitute only a small portion of the 613 biblical commandments, but also include laws that will pertain to the Messianic era, such as the laws of tithing, the Jubilee year, and Temple service.
In this area, Maimonides was more than a pioneer; to date, the Mishneh Torah remains the only work of this scope.
Maimonides also placed great emphasis on making his works accessible and understandable to all Jews, both scholars and laymen. Because of his unique style and clarity, he became known as the "Golden Tongue".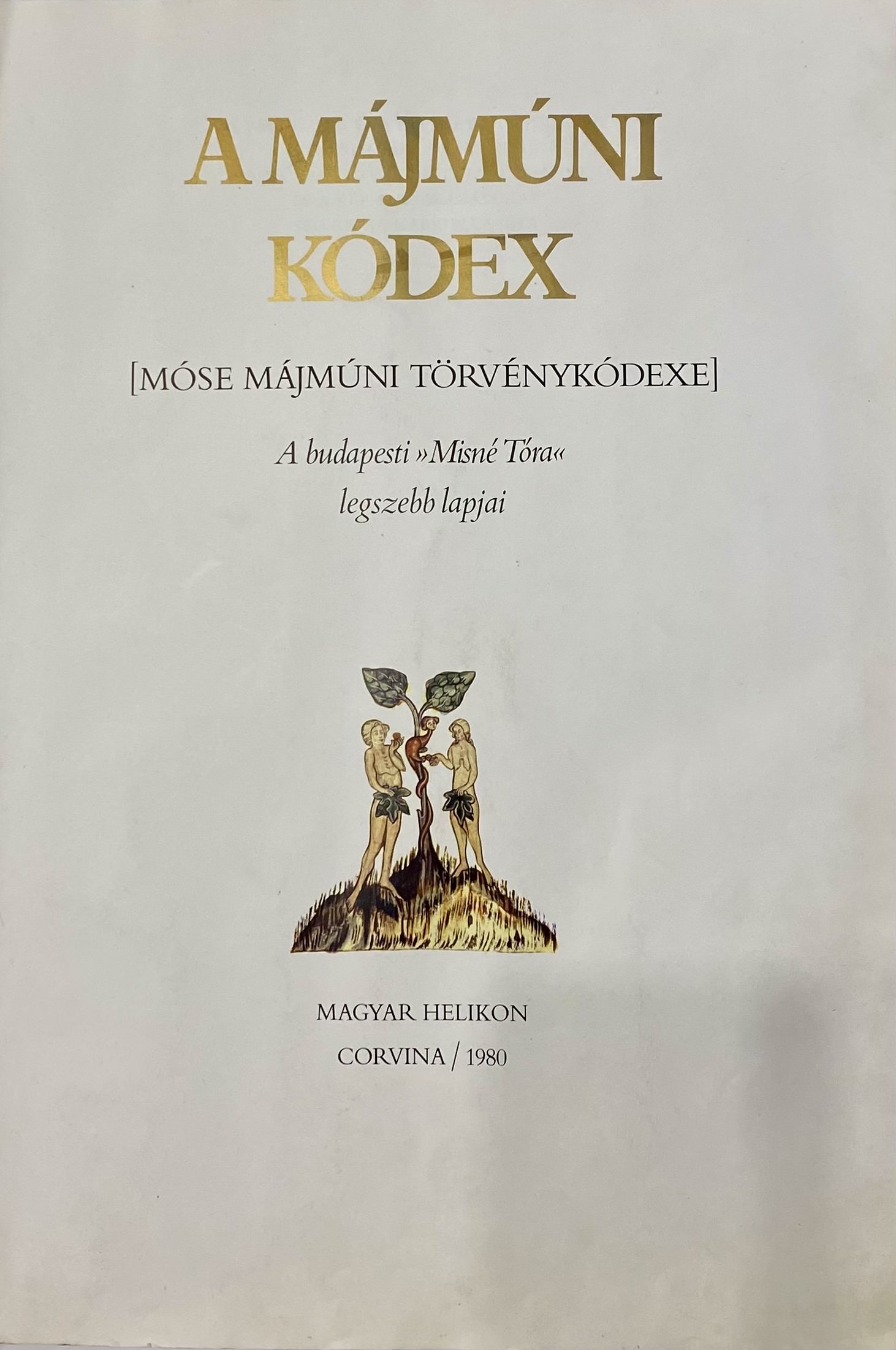 © Copyright Muzeon - The first page from the Maimonides Codex in the Muzeon Archive.
Maimonides' epochal influence on Judaism extended to a wider scale. His philosophical work, translated into Latin, influenced the great mediaeval scholastic writers and even later philosophers. His medical writings constitute an important chapter in the history of medical science.
Arhiva Muzeon – Scheiber Sándor, Móse Májmúni és törvénykódexe – A Májmúni Kódex (Codex Maimonide), Ed. Magyar Helikon – Corvina, 1980.
Twersky 1989 – Isadore Twersky, Introduction to the Code of Maimonides: (Mishneh Torah), Yale University Press, 1980.
Rakover 1987 –  Nahum Rakover, Maimonides as Codifier of Jewish Law, The Library of Jewish Law, 1987.