József Klein
The Jewish painter József Klein (1896-1945) was born in the Hungarian village of Csermő (today Cermei, Romania). He applied in 1916 to the Academy of Fine Arts in Budapest, but he later dropped out and enrolled in the art school of Baia Mare.
In 1925, he left for Paris to find inspiration, where his style was strongly influenced by famous painters such as Marc Chagall, Pablo Picasso, and Maurice Utrillo. After he returned to Baia Mare, he began exhibiting his artworks and teaching young painters. Klein was very appreciated, but he often felt discriminated against because he was Jewish. Unfortunately, in 1944, he and his wife were deported to Auschwitz by the Hungarian authorities, where they both perished.
Klein's artworks mostly focus on social themes like poverty, associated with melancholy. He illustrated mainly hard-working miners, day labourers, poor families, and problems and shortcomings of the simple man, represented in a quiet and almost resigned way.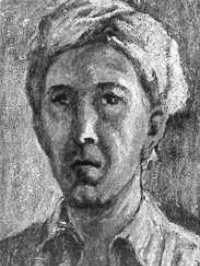 József Klein. (Image source: Blue Window Gallery)